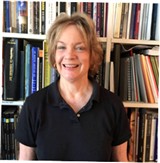 Kit Basquin has loved literature and art history for as long as she can remember, and after more than four decades of excellence, she is proud of the mark she made on the field. She started as an assistant director of public relations in Indianapolis, and advanced to become the director of the Washington Gallery in Indiana in 1972. From there, her career really took off; she opened the Kit Basquin Gallery in 1981, became the curator of education at the Haggerty Museum at Marquette University in 1988, and transitioned to the role of director of outreach for the Milwaukee branch of the Wisconsin Humanities Council in 1995. Other notable positions include curator of the Marvin Low Retrospective at the Indiana University Art Museum, grant writer and curator for the Ten Chimney's Foundation, Inc., marketing and exhibition manager for the William Doyle New York Galleries, research associate and writer for the Brooklyn Museum of Art, and assistant for administration at the Metropolitan Museum of Art. In 2008, Dr. Basquin was promoted to associate for administration in the Department of Drawings and Prints at the Metropolitan Museum of Art, and from 2009 to 2010, she served as an independent curator for the Art Gallery at the College of Staten Island. She retired in 2014.
​
Now, although no longer professionally employed, Dr. Basquin has remained active in her community. She authored "Gaza City" for Narrative Magazine, "Collecting a Life" for Art in Print, and a Letter to the Editor for New York Magazine in 2017, and maintains positions as a member of the alumnae board of the Spence School in New York, the Special Events Committee of the University Club of New York, Master of Voices, and St. Barts Singers. Previously, Dr. Basquin garnered experience as a member of the Collegiate Chorale, an advisory board member of the Gordon Parks Gallery at Metropolitan State University, a guest curator of "Wording the Image" at the Sherman Gallery of the School of Visual Arts at Boston University, the president of the print forum of the Contemporary Art Society at the Milwaukee Art Museum, and as an instructor at Marquette University, among others. She is further credited as the author of the "Biography of Mary Ellen Bute, Fimmaker," and the Wisconsin Editor of the New Art Examiner from 1980 to 1981.
To prepare for her endeavors, Dr. Basquin earned a Bachelor of Arts in history from Goucher College, a Master of Arts in art history from Indiana University, and a PhD in interdisciplinary studies at Union Institute and University. She enjoys singing, theater, swimming, languages, and travel in her free time. Her achievements have been highlighted in numerous editions of Who's Who in America, Who's Who in the World, and Who's Who of American Women.