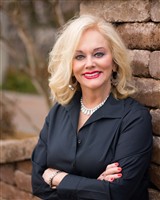 Positive, hardworking and honest, Eva Jo Sparks has become a trusted member of the forensic consulting community. Her expertise lies in white collar crimes like financial and health care fraud, predatory lending, and mortgage crime, and led her to create her company, Oklahoma Expert Witness. There, she is responsible for forensic accounting and investigations, detecting embezzlement, reconstructing financial records and books, preparing cases for court, creating trial exhibits, and testifying in federal and state courts.
​
The most gratifying aspect of Ms. Sparks' job, however, is assisting pro se litigants who have been wrongfully cheated and have no means to assist themselves. One of her most notable cases involved an attorney altering her expert report regarding Medicare fraud. She worked endlessly to get documents to prove her point, and ultimately spent a year and a half on the pro bono project before she succeeded in getting her client out of prison. Even better, her client's sentence was vacated and he didn't have to pay the restitution.
Ms. Sparks prepared for her endeavors by earning a Bachelor of Science in pre-law, cum laude, from Oklahoma City University, and by becomign a certified legal assistant, a certified EEO investigator, and a certified fraud specialist. Further, she is a member of the Association of Certified Fraud Examiners and the North Eastern Oklahoma Chapter of Certified Fraud Examiners.
​
When Ms. Sparks isn't working, she enjoys gardening, playing tennis, rearing thoroughbreds, and mountain biking. She also likes to organize food and clothing contributions for the homeless and for Vietnam Veterans of Oklahoma City.