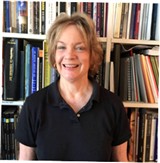 Kit Smyth Basquin, after more than five decades of professional work, is proud of the mark she has made on art history, art and writing. After completing a Bachelor of Arts in history at Goucher College, a year of teaching art history at the Fine Arts School in Addis Ababa, Ethiopia, and a Master of Arts in art history at Indiana University, she started as assistant director of public relations at the Indianapolis Museum of Art in 1970. In 1972, she directed Washington Gallery in Frankfort, Indiana, and in Indianapolis from 1972 to 1979. From 1981 to 1983, she ran the Kit Basquin Gallery in Milwaukee. In 1988, she became curator of education and an independent curator at the Haggerty Museum of Art of Marquette University in Milwaukee from 1988 to 1995. The next year, she taught art history in Marquette University's program in Gaza City, Palestine. She transitioned to the role of director of outreach for the Wisconsin Humanities Council, also in Milwaukee. In 1998, she curated the retrospective of Marvin Lowe at the Indiana University Art Museum. The following year, Dr. Basquin became a curator and writer for Ten Chimneys Foundation, Inc., circulating her catalog and exhibition "The Lunts on Stage in Wisconsin" to seven venues.
Almost 30 years in the midwest, Dr. Basquin returned to her native New York in 1999, becoming exhibition manager at William Doyle New York, an auction house. The next year, she wrote catalog entries and became research associate at the Brooklyn Museum of Art for an exhibition of African American photographers, "Committed to the Image." Also starting in 2000, she worked first as assistant administrator and then as associate administrator in drawings and prints at the Metropolitan Museum of Art from 2000 to 2014. During this time, Dr. Basquin earned a PhD in interdisciplinary studies at Union Institute and University, Cincinnati.
Retired from the Metropolitan Museum of Art in 2014, Dr. Basquin wrote a biography of pioneer animator Mary Ellen Bute, published in 2020 by John Libbey Publishing Ltd., "Mary Ellen Bute: Pioneer Animator." At this time, she also authored "Gaza City" for Narrative Magazine and "Collecting a Life" for Art in Print, among other articles. Dr. Basquin also remained active in her community, serving on the alumnae board of the Spence School and also as class representative. In addition, she served on the library and arts committee and later the special events committee of the University Club, of which she was one of the first women members.
Dr. Basquin's hobby is choral singing. Since 1999, she has been a member of the volunteer choir at St. Bartholomew's Church. In 2013, she also joined the Collegiate Chorale, which became MasterVoices. She continued singing with both of these courses. Dr. Basquin's achievements have been highlighted in numerous editions of Who's Who in America, Who's Who in the World and Who's Who of American Women.