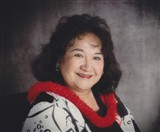 "Have a song in your heart with rainbows of aloha and sunshine!" Marlene F. Bourke-Faustina has lived by this motto her entire life, and has striven to share her gift and help others find their own inner song. After receiving a bachelor's degree in music education from Walla Walla University in 1970, she immediately jumped into the field, becoming a music teacher in Umatilla County in Oregon that year. She enhanced her academic knowledge by earning a professional diploma in music education from the University of Hawai'i at Manoa in 1973, which propelled her to roles like vocal, band and chorus coach and music teacher at the Hawaiian Mission Academy and chorus teacher at Hawaiian Mission Elementary Academy.
​
The latter half of Ms. Bourke-Faustina's career was spent teaching generations of students at Waianae Intermediate School, Highlands Intermediate School, and Wahiawa Middle School. She was both a chorus and a music teacher for all three institutions, and officially retired in 2006. She loved watching others embrace the same passion that has motivated her throughout her journey.
When Ms. Bourke-Faustina wasn't in a school, she was using her talents in her community. She was a vocalist for the Kawaiahao Church and Mission Houses from 2005 to 2006, the Central Union Church from 1977 to 1984, and the Royal Hawaiian Band from 1972 to 1977. She was also the director and coordinator of the Roses Waianae Charity WIS Campaign for the Homeless and a member of the American Choral Directors Association and the National Association for Music Education.
Ms. Bourke-Faustina's hard work and dedication did not go unnoticed. She was named Hawaii Leeward State Teacher of the Year in 2003 and 1985, and earned the Outstanding Secondary Educators of America Award in 1978 and the Outstanding Alumni Award from Kamehameha Schools in 1970. Further, she was honored to be included in six editions of Who's Who in America, three of Who's Who of American Women, and one of Who's Who in the World.
In Ms. Bourke-Faustina's free time, she enjoys designing Hawaiian floral arrangements, gardening, and arranging music, as well as spending time with her three children, Aaron, Christian, and Shane.